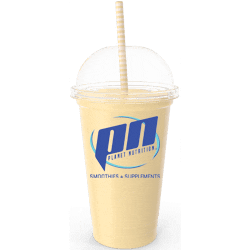 ALWAYS MADE WITH REAL FRUIT
Planet Nutrition offers protein infused smoothies.  We start with a Whey protein base infused with water and poured into a soft serve machine which provides a rich and creamy smoothie.  Our smoothie base does not contain milk, yogurt or ice cream.  We add real fruit, real ingredients to our smoothies.
Nutritional information is based upon correct portioning of Planet Nutrition standardize recipes.   However, actual nutritional values of Planet Nutrition smoothies will likely vary from time to time based on a number of different factors including, without limitation, variations in sizes, origin and freshness of ingredients, preparation techniques, number of smoothies made in a limited amount of time, product testing and sources of supply, as well as regional and seasonal differences of ingredients may affect the nutrition values of each product. Planet Nutrition also can CUSTOMIZE any smoothie to meet a variety of customers' specific nutritional needs, ie., sugar free chocolate, sugar free cameral, PB2, sugar free Jell-o, whey protein, keto protein, plant base protein, collagen protein, weight gain protein, etc.  In addition, our smoothie and other product formulations will change periodically.  Therefore, you should expect some variation in the nutrient content of Planet Nutrition smoothies – in certain cases, this variation can be as much as twenty (20%) percent.
The nutrition information published on Planet Nutrition's website, and that is available in Planet Nutrition locations, is derived from testing, published third-party sources and/or information provided by Planet Nutrition vendors and suppliers.  Manufacturers may change their formulation of ingredients without notice and product availability may fluctuate.  Further, published nutrition information is based on standard product formulations and serving sizes and is, by nature, based on statistical averages.   As a result, actual nutrition values of Planet Nutrition smoothies can also vary from such published values – in certain cases, this variation can be as much as twenty (20%) percent.
Planet Nutrition smoothies DO NOT contain the following:
High Fructose Corn Syrup
Zero Trans Fat
Despite taking precautions, normal operations may involve some shared preparation areas, equipment and utensils, and the possibility exists for your food items to come in contact with other food products, possibly including allergens. We encourage our customers with food allergies or special dietary needs to consult their doctor for questions regarding their diet. Due to the individualized nature of food allergies and food sensitivities, customers' physicians may be best positioned to make recommendations for customers with food allergies and special dietary needs.  If you have questions about our food, or if you need specialized assistance, please contact us directly at (866) 538-0918.
This site and the nutrition information provided by Planet Nutrition is not a substitute for the services of a trained health professional.  Although we provide nutritional information for our recipes, the information on this site is for informational purposes only.  No information offered by or through this site shall be construed as or understood to be medical advice or care. None of the information on this site shall be used to diagnose or treat any health problem or disease.  Please discuss any concerns with your physician or registered dietitian.
"This statement has not been evaluated by the FDA.  This product is not intended to treat or cure any disease."
Planet Nutrition franchises are independently owned and operated so menu offerings may differ between locations and may change from time to time without prior notice.  Please contact your local Planet Nutrition location to confirm menu items and nutrition information."